This was a typical and relatively straightforward job for me, but I thoroughly enjoyed it because it amply demonstrates how a modest investment in professional cleaning and sealing can transform a tired old Yorkshire Stone floor into something really stunning!
Older properties in the small village of East Morton, near Keighley in West Yorkshire, are built almost entirely of locally quarried Sandstone – from its Manor Houses, Churches and barns to the many cottages built during the Industrial Revolution for workers in Morton's textile and paper mills. Yorkshire stone is a sedimentary rock made up of quartz, mica, feldspar, clay and iron oxides. Its colour depends on the ratio of minerals it contains, and differs throughout the quarries where it is mined. It is incredibly hard wearing and durable, and has been used for building, construction and landscaping since mediaeval times.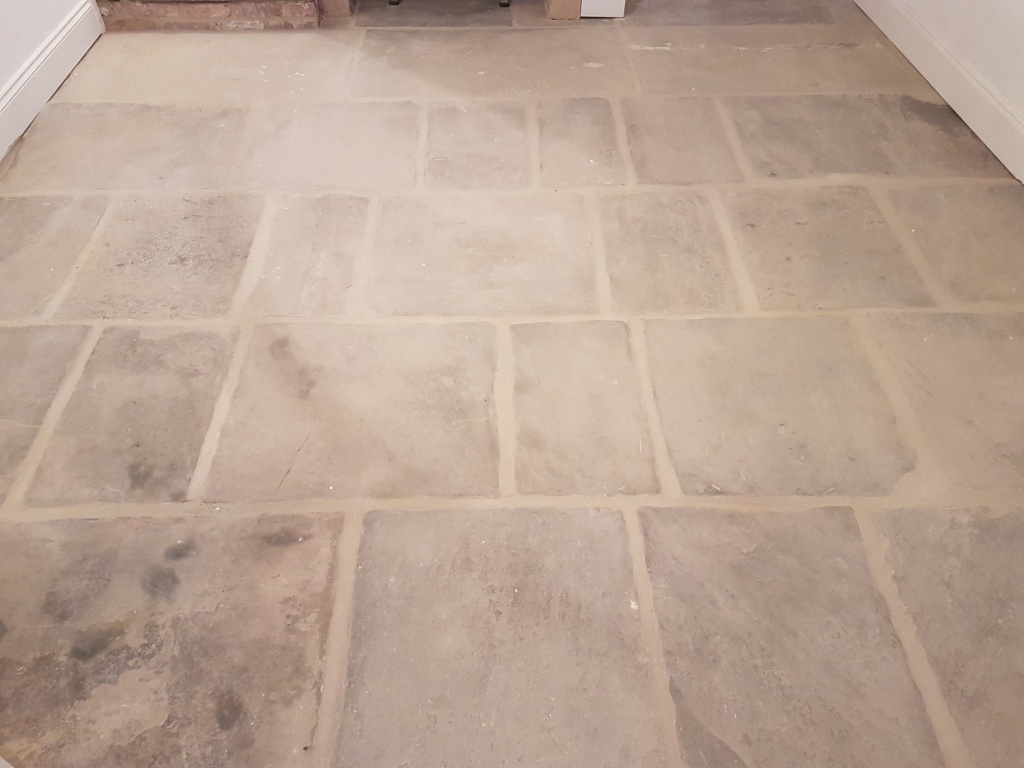 The lovely original Yorkshire Stone floor in this client's home was in great condition but looked lifeless and uninteresting. As the local Tile Doctor agent, I was tasked with deep cleaning and sealing the floor to bring it back to life. Rather unusually, this customer wanted a matt finish for the floor – which on reflect was a great choice.
Cleaning a traditional Yorkshire Stone internal floor
I started by deep cleaning the floor with Tile Doctor Pro-Clean. This is a concentrated, multi-purpose high-alkaline cleaner, stripper and degreaser which is safe to use on all types of tile, stone and grout including natural stone. I diluted one part Pro-Clean to three parts water – enough to ensure that any traces of grease, scum, oil, mildew and algae were removed and scrubbed it in using a floor buffing machine fitted with a black scrubbing pad and running at slow speed to cut down on splashing. This brought out all the dirt from the floor which I then rinsed off with more water and extracted with a wet vacuum. Stubborn areas were re-treated using the same process and once I was satisfied the floor was clean I left the floor for two days, so it could dry out thoroughly.
Sealing a traditional Yorkshire Stone internal floor
The next step was to test a couple of suitable Tile Doctor sealers to see which would give the best matt finish the customer was looking for. I decided upon Tile Doctor Ultra Seal which is a premium, solvent-based penetrating sealer formulated to provide maximum stain protection yet without changing the colour of the stone. Being a premium product it's ideal for high traffic areas such as hallways, kitchens and stairs, it's also an excellent grout sealer and a perfect choice for this floor. Most importantly, it gave the no-sheen, natural-look finish that the customer wanted.
I started by sweeping and vacuuming the floor to ensure that every trace of dust was removed before sealing. Then I applied two coats of Tile Doctor Ultra Sealer – one in the morning and one in the afternoon to allow the first coat to dry out before applying the second. 30 minutes after applying the second coat I tested with water droplets to make sure that the surface was completely sealed. The customer was able to walk on and use the floor as normal after just two hours, and after just 24 hours the full cure was achieved.
What a transformation! The lifeless, grey floor was now full of colour and character, highlighting all the wonderful and original textures and tones in the Yorkshire Stone. The customer was very happy!
Professional Renovation of a traditional Yorkshire Stone floor