In an interesting turn of events, I was recently contacted again by a homeowner from Guiseley, near Leeds, with whom I had been in touch with two years prior. At that time, I had quoted for cleaning and maintenance work to be carried out on a Yorkshire Stone, or 'Yorkstone' tiled floor, but the customer had opted to go with a different company. Yorkstone is a variety of Sandstone that it unique to the quarries of Yorkshire.
When the customer called me again, she explained that the previous work – most likely carried out by inexperienced cowboy builders – had been disastrous. The stone evidently had not bene properly cleaned and very little sealer had been used to protect it against wear and tear. The result was a very dirty and dusty floor – and the only solution was to start the restoration process over again, this time with the help of a true professional!
Here's a photo of what the floor looked like before the restoration: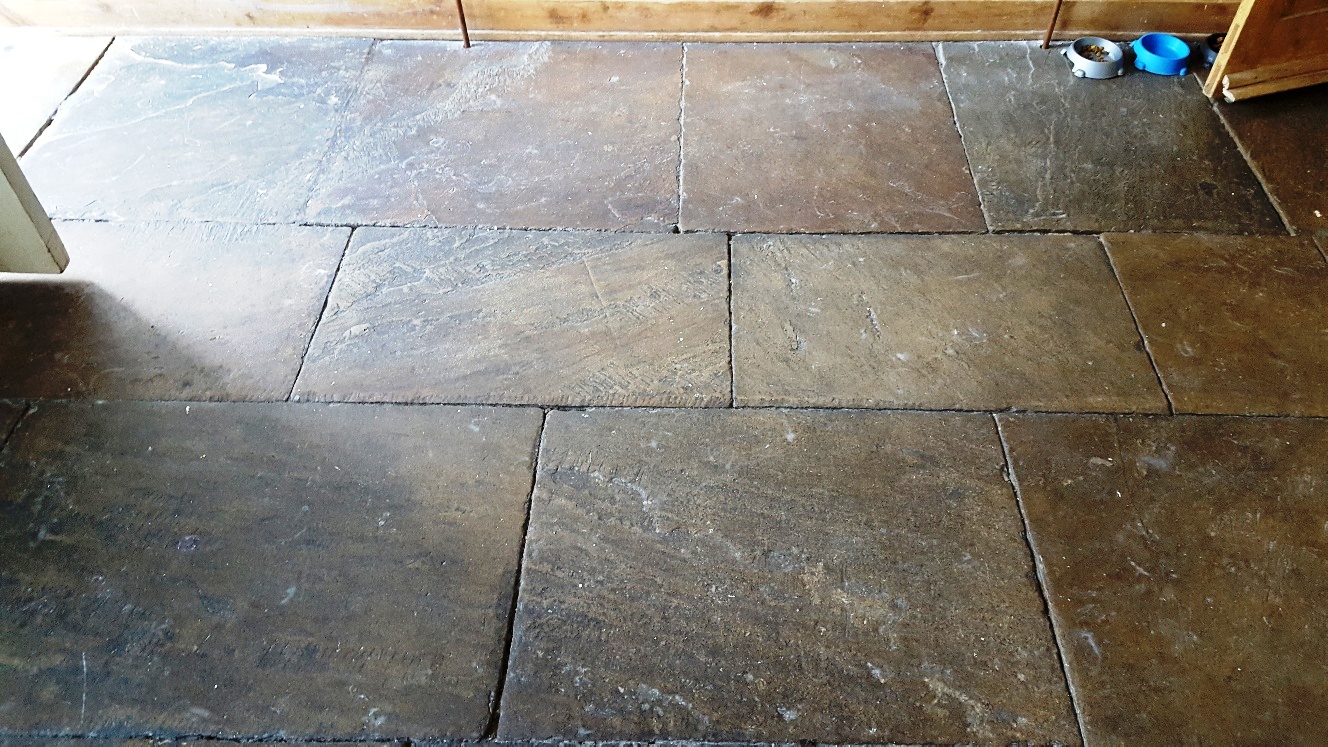 Cleaning Dull and Dirty Yorkstone Tiles
Since the floor had not been cleaned properly to begin with, there were several unsightly paint stains on the stone in addition to general dirt and stains. To remove these, I applied Tile Doctor Pro Clean, which is a reliable alkaline cleaner, liberally across the floor and left it dwell for a short period. I then used a wire brush to scrub away the muck.
The customer had asked the builder to grout the tiles to reduce the likelihood of trapped dirt and make the floor feel complete. For whatever reason, builder either wouldn't or couldn't oblige, so I grouted the whole floor as well, much to the customer's delight.
Sealing Yorkstone Tiles
Once the floor was fresh and clean, it was left to dry completely so it could subsequently be sealed.
My choice of sealer was Tile Doctor Seal and Go, a topical sealer which provides both a stain resistant surface seal and a durable and aesthetically-pleasing low-sheen finish to really enhance the character of the stone. Four coats of sealer were used in total to ensure maximum protection.
Here's what the floor looked like after the restoration:
After cowboy builders had botched the job, the customer was exceptionally happy that the situation had finally been put right. The floor is now in top shape and will be protected against wear and tear for a long time to come.
Professional Restoration of a Dirty Yorkstone Tiled Floor in North Yorkshire