It's not too common that you find two very different natural stone tiled floors in the same property. However, this is exactly what I discovered on a recent visit to a farmhouse property in Ripley, near Harrogate in North Yorkshire. The owner wanted to restore both their Westmorland Green Slate tiled entranceway and a Blue Moleanos Limestone tiled floor.
Westmorland Green Slate originates from the Lake District in Cumbria – where it has been quarried for many centuries – and is known to be a high quality and popular choice for flooring due to its subtle and pleasant green shades. By contrast, Moleanos Limestone originates from Portugal and is one of more commonly found types of Limestone used in buildings across the world.
But while the two floors were very different, the customer's objective was the same for both – to restore the appearance of the tiles and return the shine to the stone. Here's how I did it.
Cleaning and Sealing Westmorland Green Slate Tiles
The first floor I tackled was the Westmorland Green Slate, situated at the entrance to the property. Naturally, given that the tiles are situated in a high traffic area, they were very dirty and required a deep clean.
To do this, I applied a strong dilution of
Tile Doctor Pro-Clean
, which is our high alkaline, multi-purpose cleaner, stripper, and degreaser. The product was scrubbed into the tiles using a scrubbing pad fitted to a heavy-weight rotary machine to strip away any old sealer and remove the ingrained dirt. One I was satisfied with the condition of the floor it was rinsed with water and a wet vacuum used to remove the now soiled cleaning solution.
Once the floor had been left to dry completely, I was able to give the floor a fresh seal in the form of four coats of Tile Doctor Seal and Go. This sealer is specially formulated to provide both a stain resistant surface seal and a durable low-sheen finish.
Cleaning and Sealing Blue Moleanos Limestone Tiles
Whilst waiting for the slate floor to dry I moved on to restore the Blue Moleanos Limestone tiles, which covered a floor area of 20 square metres, but were looking very sad, tired, and lifeless.
To clean polished Limestone tiles, we typically use a process known as burnishing, which involves the direct application of four different diamond encrusted
burnishing pads
to grind away old sealers, dirt and stains, before polishing the stone to restore lustre.
First, I used a Coarse 400 grit burnishing pad to strip the floor of the old sealer and remove all grease marks and stains. I had to go over the floor with the pad twice to get rid of some particularly stubborn grease spots.
Having done that, I moved on to focus on building back up the polished appearance of the Limestone by applying the Medium 800 grit, Fine 1500 grit, and Very Fine 3000 grit burnishing pads, with a light spray of water to act as a lubricant with each. This achieved a high-quality satin finish, which I ensured will be protected for the long-term by sealing the stone with Tile Doctor Colour Grow – an impregnating and colour enhancing sealant.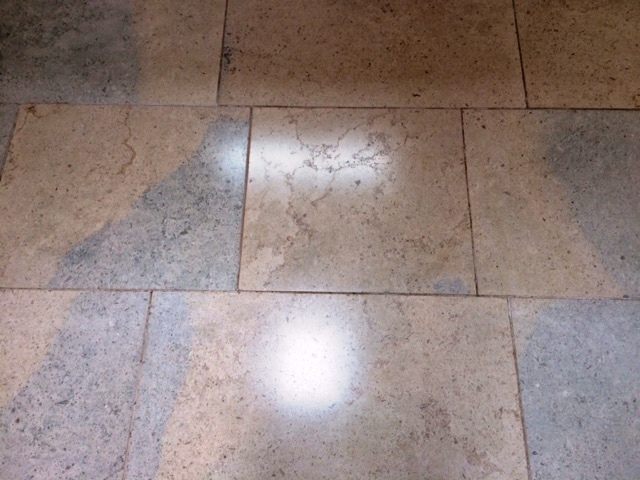 It took me three full days of work to clean, polish and seal both floors – and the hard work paid off, as the customer was absolutely delighted with their rejuvenated tiles!
Professional Tile Cleaning, Polishing and Sealing for Westmorland Green Slate Tiles and Blue Moleanos Limestone Tiles in Ripley, North Yorkshire
Restoring Green Westmorland Slate and Blue Moleanos Limestone Tiles in Ripley